The Church Sings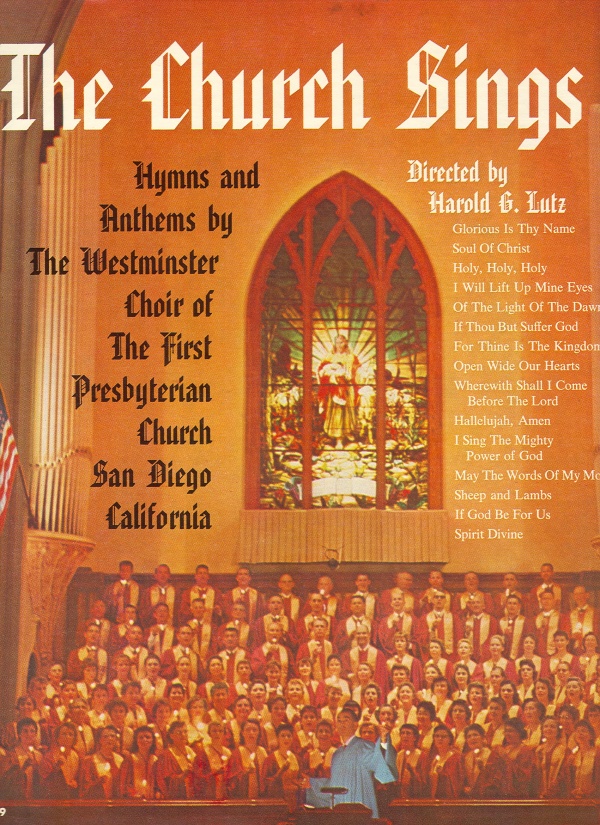 This is one of the very few recordings we have of Harold's work. The album was produced in 1959, but there were no copies of it available. In about 1983, Raymond was working at Burroughs Corporation in Rancho Bernardo, California. At his lunch break, he went to a small deli in the village and there was a small selection of used records. One of those was The Church Sings, directed by Harold G. Lutz, with shrinkwrap cover still intact. Mary Lutz participated in the recording, and can be seen in the very center of the picture on the album cover.
From the back of the album cover:

The Church Sings
Hymns and Anthems by the Westminster Choir of the First Presbyterian Church, San Diego California
Directed by HAROLD G. LUTZ
The First Presbyterian Church, one of the twenty seven Presbyterian churches in San Diego County, was organized in 1869. One of the 9,462 churches in the United Presbyterian Church of the United States, it is second in attendance at morning worship and second in membership, with over 5,000 communicant members and a church school enrollment of over 2,000.
The one hundred and forty voices ofthe Westminster Choir, singing here in celebration of the church's ninethieth year, are under the direction of Harold G. Lutz. Mr. Lutz earned his Bachelor of Music degree at Redlands, his Masters Degree at Claremont College, and he has had two years of graduate study in Composition under Toch, Kubic, Rosza, Eisler and Trotter at the University of Southern California.
Organist Virginia Cox is a graduate of the University of Southern California and former student of Archibald Sessions and John Crown.
---

Track 1-1: Glorious Is Thy Name -- Mozart
Glorious is Thy Name, Almighty Lord;
All the angels stand, round about Thy throne;
Let all nations bow before Thee,
And declare Thy won'drous works.
---

Track 1-2: Soul of Christ -- Lapo
Soul of Christ, sanctify me;
Body of Christ, save me;
Blood of Christ, quicken me;
Water from the side of Christ, Wash me.
Passion of Christ, strengthen me.
Suffer me not to be separated from me.
From the evil of enemy defend Thou me;
In the hour of my death call me.
And bid me come to Thee,
that with the saints I may praise Thee. Amen
---

Track 1-3: Holy, Holy, Holy! -- Dykes
Holy, Holy, Holy! Lord God Almighty;
Early in the morning our song shall rise to Thee;
Holy, Holy, Holy! Merciful and mighty;
God in Three Persons, Blessed Trinity.
---

Track 1-4: I Will Lift Up Mine Eyes -- Sowerby
I will lift up mine eyes,
Unto the hills, from whence cometh my help.
---

Track 1-5: Of The Light Of The Dawn -- MacKinnon
Of the light of the dawn let naught be silent,
Nor let the bright stars be wanting in praise;
Let the fountains of the rivers lift up their song
To the Father, Son and Holy Spirit.
So let all the powers on earth cry aloud, Amen, Amen.
Might and honor, glory and praise to God, Amen, Amen.
Only giver of all that is good. Amen.
---

Track 1-6: If Thou But Suffer -- Newmark
If Thou but suffer God to guide Thee,
And hope in Him, thro' all Thy ways;
He'll give thee strength what-e'er betide thee,
And bear thee thro' the evil days;
Who trusts in God unchanging love;
Builds on the rock that naught can move.
---

Track 1-7: For Thine is the Kingdom -- Thimen
For thine is the Kingdom,
The power and the Glory,
Forever and ever, Amen.
---

Track 2-1: Open Wide -- Lutz
Open wide Our Hearts,
Open wide the window of our spirits,
And fill us full of light.
Open wide the door of our hearts
That we may receive and entertain Thee
with all our powers of adoration and love. Amen
Score of "Open Wide Our Hearts"
---

Track 2-2: Wherewith Shall I Come Before The Lord -- Bush
Wherewith shall I come before the Lord
and bow myself before the high God?
Shall I come before Him with burnt offerings,
with calves of a year old?
Will the Lord be pleased with thousands of rams,
or with ten thousand rivers of oil
Shall I give my first-born for my transgression,
The fruit of my body for the sin of my soul?
He hath shewed thee, o man, what is good;
And what does the Lord require of thee,
But to justly and to love mercy;
And to walk humbly with thy God.
---

Track 2-3: Hallelujah, Amen -- Handel
Hallelujah, Amen: O Judah,
rejoice in songs divine;
With cherubim and seraphim harmonious join;
Hallelujah, Amen.
---

Track 2-4: I Sing the Mighty Power of God -- Ellacombe
I sing the mighty power of God,
That made the mountains rise;
That spread the flowing seas abroad,
And built the lofty skies,
I sing the Wisdom that ordained
the sun to rule the day;
The moon shines full at His command,
and all the stars obey.
I sing the goodness of the Lord,
That filled the earth with food;
He formed the creatures with His word,
And then pronounced them good.
Lord, how Thy wonders are displayed,
Where'er I turn my eye;
If I survey the ground I tread,
Or gaze upon the sky!
There's not a plant or flower below,
But makes Thy glories known;
And clouds arise, and tempests blow,
By order from thy throne;
While all that burrows life from Thee
Is ever in Thy care,
And everywhere that man can be,
Thou, God, art present there. Amen
---

Track 2-5: May the Words of My Mouth -- Old Hebrew Melody
May the words of my mouth,
And the meditations of my heart
be acceptable in Thy sight,
O Lord, my Strength adn my Redeemer.
---

Track 2-6: Sheep and the Lambs -- Homer
All in the April evening,
April airs were abroad;
I saw the Sheep with the Lambs,
And thought on the Lamb of God.
---

Track 2-7: If God be For Us -- Lutz
If God be for us, Who can be against us?
Halleluia. Lo, I am with you always,
Even unto the end of the world.
For I am persuaded that neither death,
nor life, nor angels, nor principalities,
nor powers, nor things present,
nor things to come, nor height, nor death,
nor any other creature shall be able to
separate us from the love of God Which is in
Christ Jesus our Lord. Halleluia.
Original score for "If God Be For Us" (1957)
---

Track 2-8: Spirit Divine Attend our Prayers -- Curger
Spirit divine, attend our prayers,
And make this house Thy home;
Descend with all Thy gracious powers;
O come, great Spirit, come!