Harold's Family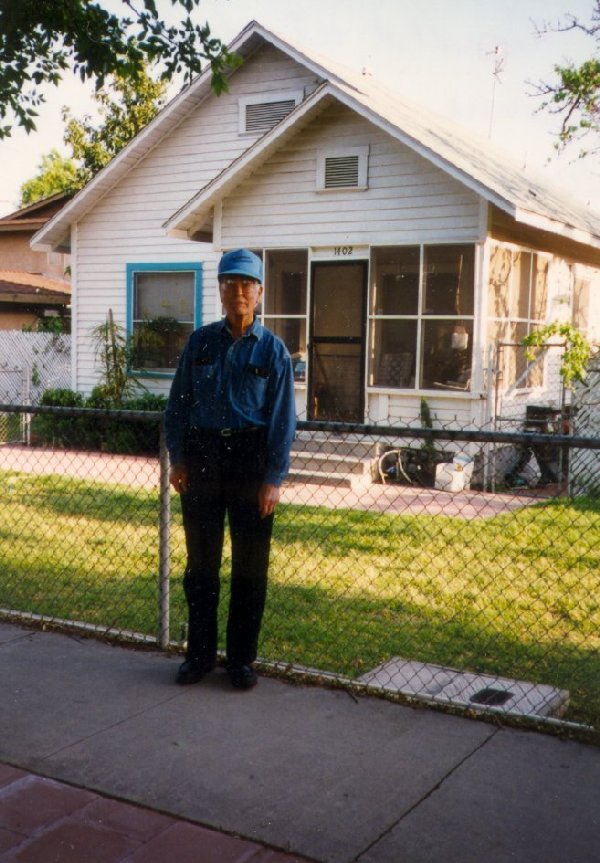 Harold grew up in this house, 1402 Bowen St. Upland, California
---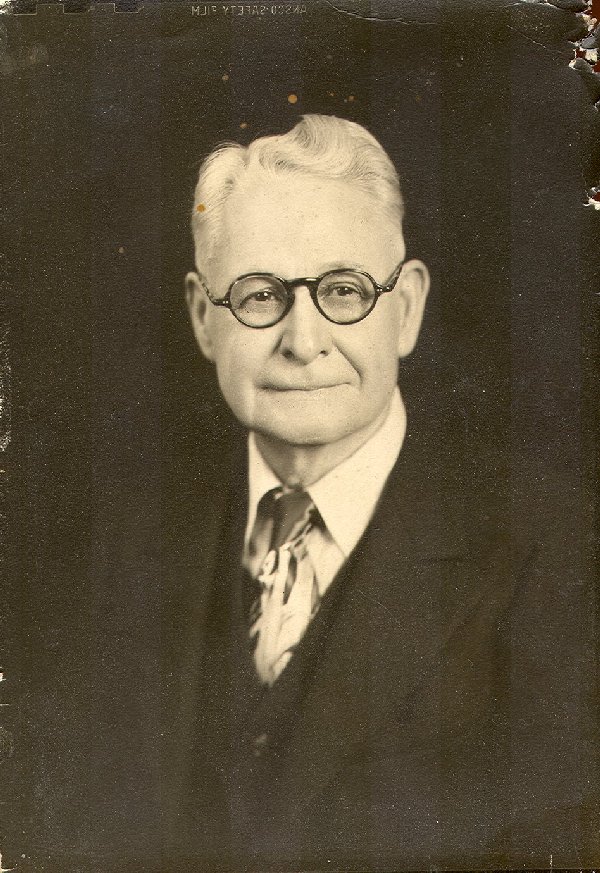 Harold's Father, George Perry Lutz
C. George Perry Lutz, born 5/27/1871, Holton, Jackson County, Kansas
Married: 5/4/1906, Grace Isabel Hubbard, Lawton, OK at Christian Church
Died: 7/25/1951, 1402 Bowen St., Upland CA of Brights Disease and/or leukemia; Buried in Bellevue Cemetary - Ontario CA.
After his parents went blind, he worked family 75 acre farm until death of his parents. He was the Youngest in the family. Lived entire adult life after marriage in one place: 1402 Bowen St., Upland CA. Was a partner in a plumbing business; he learned plumbing skills via a correspondence course. Sold his half of business to his partner and continued his own plumbing service from the Bowen address.
---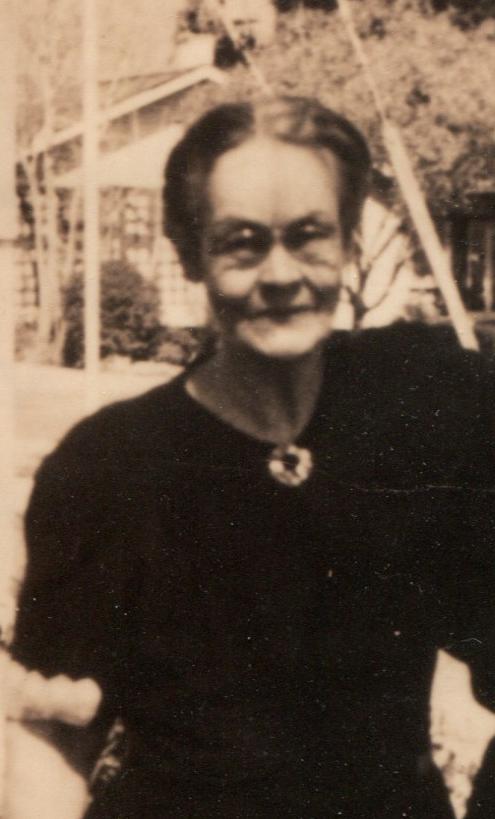 Harold's Mother, Grace La Dorra Belle Lutz (Originally Hubbard)
"Salvation Army Girl; School Teacher in KS; Acquired epilepsy after bicycle accident". We are told that Grace had Native American roots in the Cherokee Nation. Very little substantive information to support this possibility, but Valarie Lutz (AKA Rising Starr) did investigate and changed her name after discussing with a member of the Cherokee Nation that said he remembered Grace.
Born 12/12/1884, Kingman City, Kingman Co. Kansas
Died: 7/8/1964, Hillcrest Manor, National City

---
Oldest Brother: William Krieder Lutz ("Dutch")
[No Picture Available]
Plumber; Ontario resident for 50 years. His love of life was motorcycles. Born 12/22/1907, Upland, CA
Married Ruby Van Hoy, San Bernardino, 11/1934.
Died: 4/4/1990, 116 No. Miramonte, Ontario, CA 11761
Two Children:
Patricia (Suzie) Joann, Born 1938
> Lives in San Dimas, runs a nursing home.

James LeRoy Lutz, Born about 1930. Died 2/23/1990
---
Oldest Sister: Juanita Louise Lutz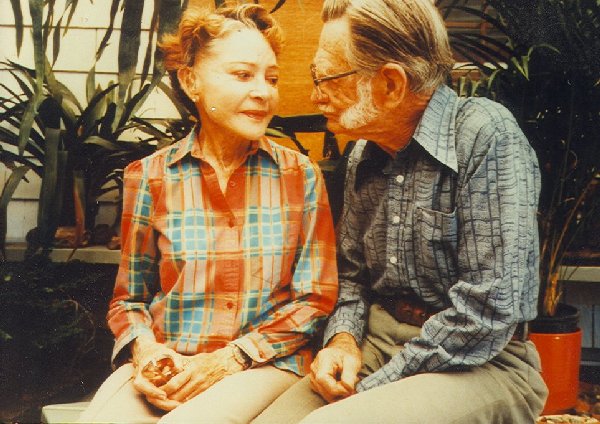 Juanita and Ned Francis
Born 6/19/1909, Upland, Ca
Married 7/4/1948, Edward Bixby (Ned) Francis, Pasadena Presbyterian (Ned: born 1/22/1902, Riley KS; died in 1997?) Died: 1998
Lived in Upland until starting her teaching career at Vina F. Danks Jr. High in Ontario. Held teaching positions at Grossmont High (El Cajon, 1 yr), S.D. High School, Compton (Ontario, 1 yr), and then Jordan High in L.A. where she taught English until retirement in San Diego. Juanita was a prolific fine-art watercolor painter, taught yoga and other classes during retirement.
---
Harold was the next child, third in the family.
---
Robert (Bob) Warren Lutz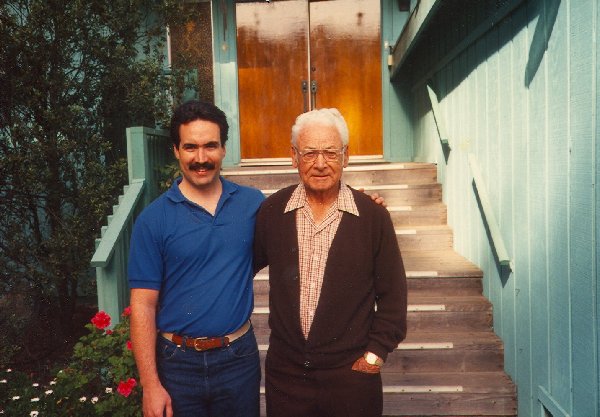 Bob with Raymond in about 1994 or so.
lived in Morro Bay CA
Born: 9/24/1912
Married in 1937 to Billie Stillwell, Porterville
Died 1997
Child: John (Jack) Lutz (Lives in San Luis Obispo)
Susan?
---
Margaret Fern Lutz
[No Picture]
Born: 2/28/1915
Married: 1947, Larry Page Died: About 1995 Two Children:
Steve Page
Robert Page (deceased)
---
Shirley Irene Lutz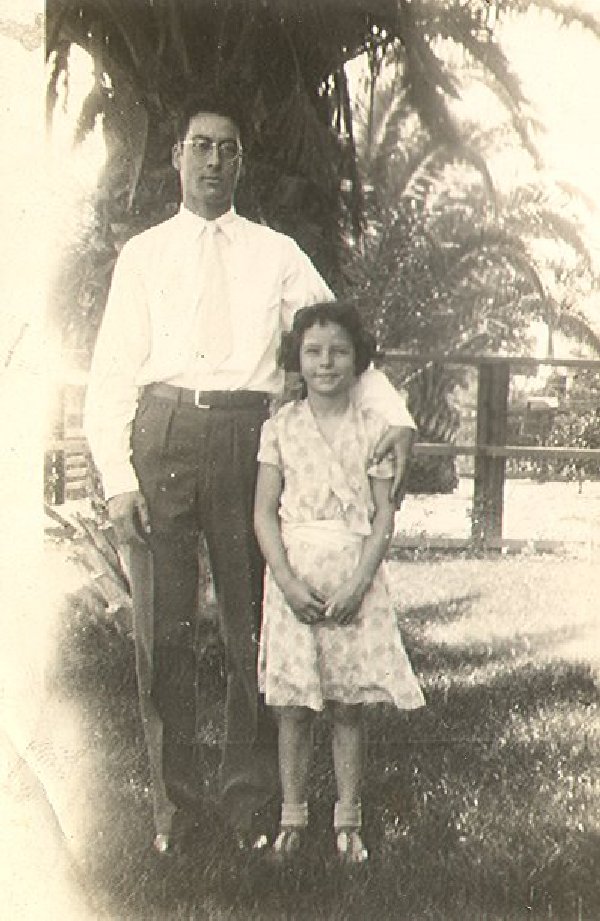 Shirley with Harold when he was about 24, she about 10.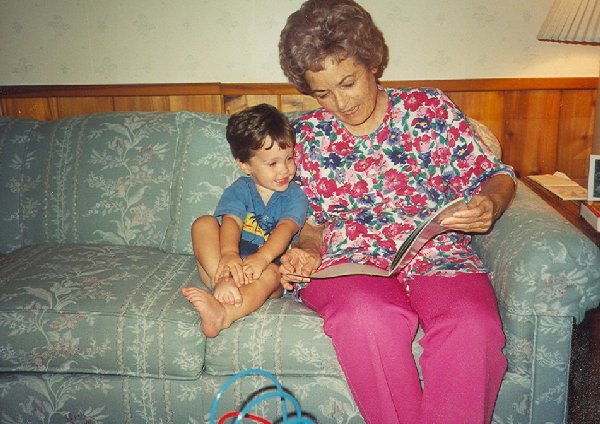 Aunt Shirly with Toddler Austin in about 1992
Born: 9/27/1925, Upland
Married Sam Bertolino, Victory Chapel, El Cajon, 12/15/1981
(Sam died 2009-09-14, 88 yrs old)
Shirley worked in a Bank; Co. of S.D.; and Doctor's receptionist. Two Children:
Mike Mayhew, born 1/24/1950, Pamona, CA; married 1978, Beverly Sclichter, Morehead KY
Works for State of South Carolina, services of handicapped.
Mike's children:

Grant Sclichter Mayhew, born 2/1/84, Morehead KY
Luke Sclichter Mayhew, born 7/5/89, Mt. Pleasant S.C.

Karen Mayhew, born 3/19/1953, Pamona, CA
Now marreid to: William "Bill" Ralph Hewitt, Wesleyan Church, El Cajon CA. 5/13/78
Children: